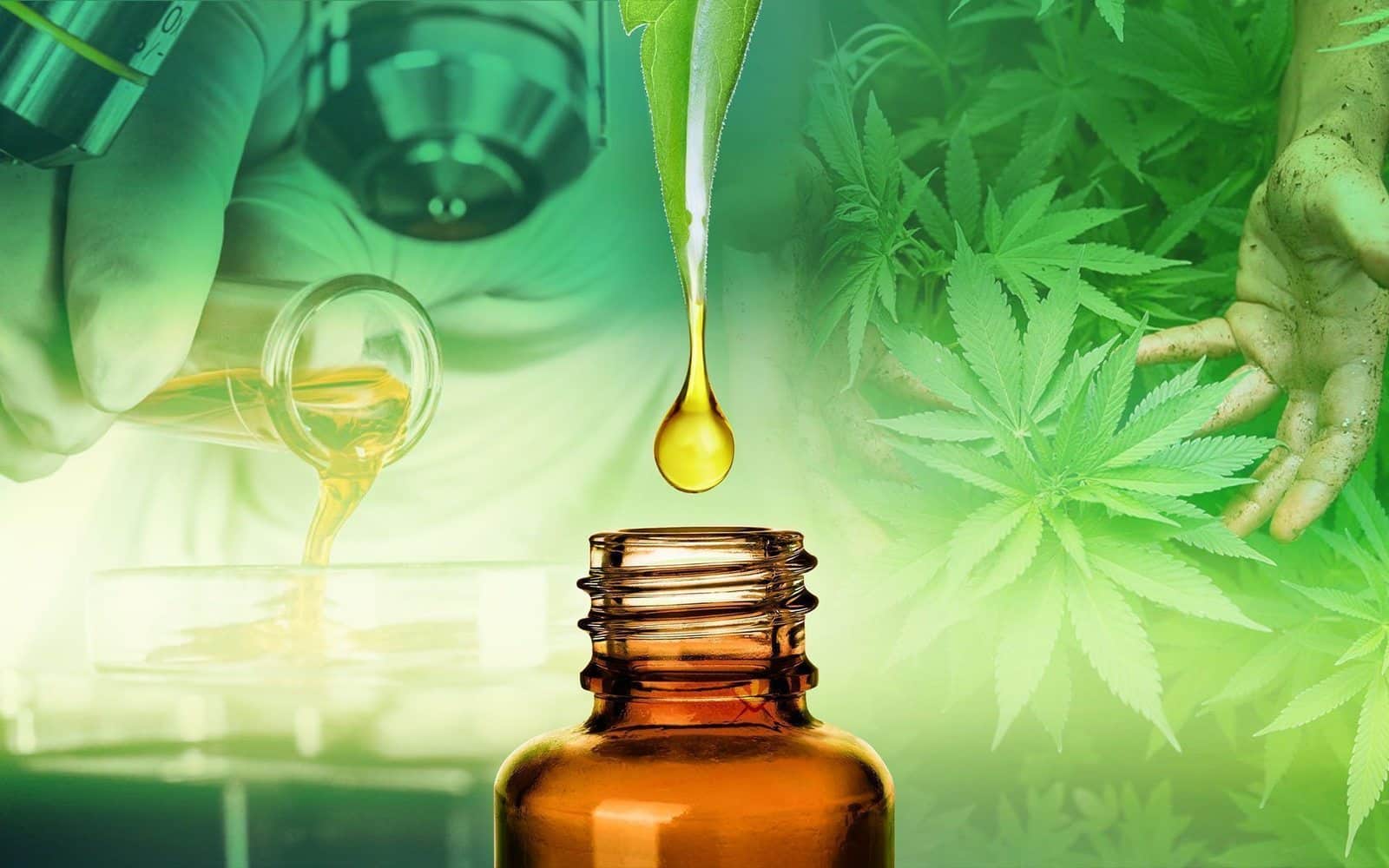 What is CBD Oil and how does it work?
CBD is the name of a compound called cannabidiol that is found in the cannabis plant. CBD is one of numerous compounds found in the plant that are called cannibinoids. Researchers have been looking at the potential therapeutic uses of CBD.
Oils that contain concentrations of CBD are known as CBD oil, but the concentration and uses of different oils vary. CBD oil is a cannabinoid derived from the cannabis plant.
Until recently, the most well-known compound in cannabis was delta-9 tetrahydrocannabinol (THC). This is the most active ingredient in marijuana.Marijuana contains both THC and CBD, but the compounds have different effects.
THC is well-known for the mind-altering "high" it produces when broken down by heat and introduced to the body, such as when smoking the plant or cooking it into foods.
CBD is not psychoactive. This means that it does not change the state of mind of the person who uses it. However, it does appear to produce significant changes in the body, and it may have medical benefits.
Most of the CBD used medicinally is found in the least processed form of the cannabis plant, known as hemp. Hemp and marijuana come from the same plant,
Cannabis sativa
, but they are very different.
Over the years, marijuana farmers have selectively bred their plants to be very high in THC and other compounds that interested them, either for a smell or an effect they had on the plant's flowers.
On the other hand, hemp farmers have not tended to modify the plant. It is these hemp plants that are used to create CBD oil.
How CBD works
All cannabinoids, including CBD, attach themselves to certain receptors in the body to produce their effects.
The human body produces certain cannabinoids on its own. It has two receptors for cannabinoids, called CB1 receptors and CB2 receptors.
CB1 receptors are found all around the body, but many of them are in the brain.
The CB1 receptors in the brain deal with coordination and movement, pain, emotions and mood, thinking, appetite, and memories, among others. THC attaches to these receptors.
CB2 receptors are more common in the immune system. They have an effect on inflammation and pain.
It used to be thought that CBD acts on these CB2 receptors, but it appears now that CBD does not act on either receptor directly. Instead, it seems to influence the body to use more of its own cannabinoids.
Potential health benefits
Because of the way that CBD acts in the body, it has many potential uses. CBD oil is taken orally, rubbed on the skin, and sometimes inhaled through vapor or used intravenously to produce its effects.
Natural pain relief or anti-inflammatory properties
People commonly use prescription or over-the-counter drugs to relieve pain and stiffness, including chronic pain.
Some people feel that CBD offers a more natural way to lower pain. A study found that CBD significantly reduced chronic inflammation and pain in some mice and rats.
The researchers suggest that the non-psychoactive compounds in marijuana, such as CBD, could be a new treatment for chronic pain.
CBD is already in use for some conditions that cause chronic pain, such as multiple sclerosis and fibromyalgia.
There is already a multiple sclerosis drug made from a combination of TCH and CBD, to treat MS pain. However, researchers think the CBD in the drug may be contributing more with its anti-inflammatory properties than by acting against the pain. Clinical trials of CBD are necessary to determine whether or not it should be used for pain management.
Quitting smoking and drug withdrawals
There is some promising evidence that CBD use may help people to quit smoking. A pilot study found that smokers who used an inhaler containing the compound CBD smoked fewer cigarettes but did not have any additional craving for nicotine. Another similar study found that CBD may be a promising substance for people who abuse opioids.
Researchers noted that some symptoms experienced by patients with substance use disorders may be reduced by CBD. These include anxiety, mood symptoms, pain, and insomnia.
These are early findings, but they suggest that CBD may be used to avoid or reduce withdrawal symptoms.
Researchers think it may change the way your brain's receptors respond to serotonin.
Epilepsy and other mental health disorders
CBD is also being studied for its possible role in treating epilepsy and neuropsychiatric disorders.
A review noted that CBD has anti-seizure properties and a low risk of side effects for people with epilepsy.
Studies into CBD's effect on neurological disorders suggest that it may help to treat many of the disorders that are linked to epilepsy, such as neurodegeneration, neuronal injury, and psychiatric diseases.
Another study found that CBD may have similar effects to certain antipsychotic drugs, and that it may be safe and effective in treating patients with schizophrenia. More research is needed to understand how this works, however.
CBD helps fight cancer
CBD has been studied for its use as an anti-cancer agent.
A review posted to the 
British Journal of Clinical Pharmacology
notes that CBD appears to block cancer cells from spreading around the body and invading an area entirely.
The review indicates that CBD tends to suppress the growth of cancer cells and promote the death of these cells.
Research is still in its early stages. The action of CBD that's promising for cancer treatment is its ability to moderate inflammation and change how cell reproduce. CBD has the effect of reducing the ability of some types of tumor cells to reproduce.
Researchers note that CBD may help in cancer treatment because of its low toxicity levels. They call for it to be studied along with standard treatments, to check for synergistic effects.
The National Cancer Institute (NCI) says that CBD may help alleviate cancer symptoms and cancer treatment side effects. However, the NCI doesn't fully endorse any form of cannabis as a cancer treatment.
Anxiety disorders
Patients with chronic anxiety are often advised to avoid cannabis, as THC can trigger or amplify anxiety and paranoia in some people.
However, a
review
 suggests that CBD may help to reduce the anxiety felt by people with certain anxiety disorders.
One study found that CBD helped people with social anxiety give a speech. Other early studies done with animals have shown that CBD may help relieve anxiety by reducing stress, decreasing physiological effects of anxiety, such as an increased heart rate, improving symptoms of post-traumatic stress disorder (PTSD) and inducing sleep in cases of insomnia
The researchers point to studies showing that CBD may reduce anxiety behaviors in disorders such as post-traumatic stress disorder, general anxiety disorder, panic disorder, social anxiety disorder and obsessive-compulsive disorder (OCD)
The review notes that current medications for these disorders can lead to additional symptoms and side effects, and that people may stop taking the drugs because of these unwanted effects. CBD has not shown any adverse effects in these cases to date, and the researchers call for CBD to be studied as a potential treatment method.
Type 1 diabetes
Type 1 diabetes is caused by inflammation when the immune system attacks cells in the pancreas.

Recent research found that CBD may ease the inflammation in the pancreas in type 1 diabetes. This may be the first step in finding a CBD-based treatment for type 1 diabetes.
Acne
Another promising use for CBD is as a new treatment for acne. Acne is caused, in part, by inflammation and overworked sebaceous glands on the body. These glands are responsible for producing sebum, a natural oily substance that hydrates the skin. Too much sebum, however, can lead to acne.
A recent study found that CBD helps to lower the production of sebum that leads to acne, partly because of its anti-inflammatory effect on the body. CBD could be a future treatment for acne vulgaris, the most common form of acne.
Alzheimer's disease
Initial research published in the Journal of Alzheimer's Disease found that CBD was able to prevent the development of social recognition deficit in subjects.
This means that CBD could potentially prevent people in the early stages of Alzheimer's from losing their ability to recognize the faces of people that they know. This is the first evidence that CBD has potential to prevent Alzheimer's disease symptoms.
How to use CBD oil
CBD is extracted from marijuana plants as either an oil or powder. These can be mixed into creams or gels. They can be put into capsules and taken orally, or rubbed on your skin. The multiple sclerosis drug nabiximols is sprayed as a liquid into your mouth. How CBD should be used depends largely on what it's being used for.
Potential side effects and health risks
Many small-scale studies have looked into the safety of CBD in adults and found that it is well tolerated across a wide dose range.
There have been no significant central nervous system side effects, or effects on vital signs or mood among people who use it either slightly or heavily.
The most common side effect noted is tiredness. Some people have noticed diarrhea and changes in appetite or weight. Some report dizziness, low blood pressure, depression and hallucinations, which is probably a sign of CBD oil being contaminated with a too high amount of THC.

There are still very little long-term safety data, and tests have not been carried out on children as of yet so we advice to use caution.
As with any new or alternative treatment option, a patient should discuss CBD with a qualified healthcare practitioner before using it.

More human studies are needed to fully understand the range of risks and side effects that CBD oil may cause. Studies of CBD oil aren't common. This is partially because cannabis is still very heavily regulated, causing obstacles for researchers. With the legalization of marijuana products, more research is possible, and more answers will come.
Our comment
Over the past few years there's been a surge of interest for CBD Oil, which apparently leads to jealousy in Big Pharma as it is currently not yet medicalized and as a result, can't be sold for the extreme price levels they are used to. So it is in their best interest to manipulate the media into making people feel suspicious. 
However, it is true not all CBD Oils are of equaly quality: most over the counter CBD oils that are sold in commercial drugstores, have such low concentrations they can't really be beneficial.
We can assure you of the high quality of the Vitae Sense CBD oil sold at Pasio Online, where each of their batches is being checked for consistency in its content by means of thin layer chromatography. This assures you of a product that truly contains the amount of total CBD that it promises to have, with each batch having only trace amounts of THC.