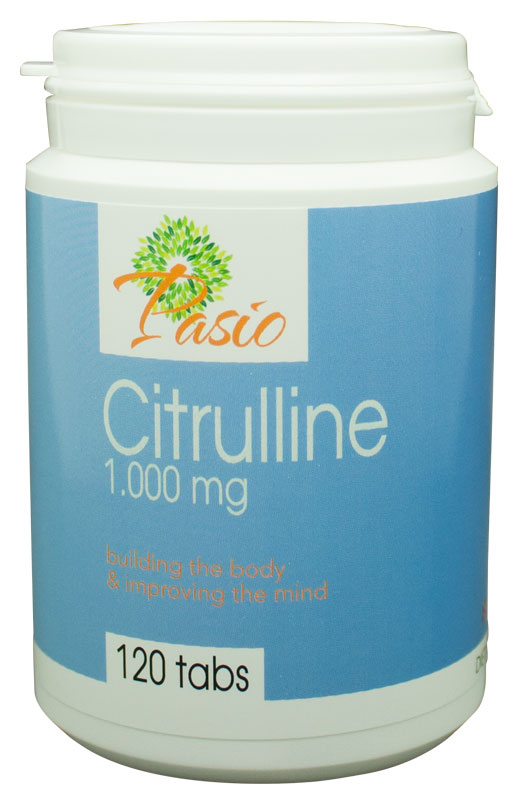 Citrulline voor sporters
Citrulline dat verkwikkend werkt op de spieren, lichamelijk welbevinden en dus op het prestatievermogen. Citrulline is zowel een precursor voor de essentiële aminozuren arginine en ornithine en daardoor een precursor voor stikstof (NO), wat inwerkt op zowel de geslachtsorganen als op die spieren, waar het helpt bij de afvoer van melkzuur en de spieren gevoeliger maakt voor het spieropbouwende / spierherstellende hormoon testosteron.

Citrulline verhoogt de energie productie, biedt weerstand tegen vermoeidheid en bespoedigt het herstel. Stamina (momenteel eenvoudigweg Citrulline) bevat het gepatenteerde Citral M™. in een speciale 2:1 verbinding van citrulline en malaat.

Citrulline heeft een belangrijke invloed op de aërobe vermogen van sporters, doordat het de productie van ATP (de universele drager van energie) laat vergroten, waardoor meer weerstand is tegen vermoeidheid.
Stamina bevordert het hergebruik van melkzuur uit de spieren door er weer ATP van te maken en giftige bijproducten als ammonium af te voeren. Met Stamina kan de sporter zijn of haar grenzen verleggen door bijvoorbeeld de trainingsduur of intensiteit te verhogen zoals dat ook kan met creatine, maar dan zonder de bijwerkingen die geassocieerd zijn met creatine zoals verzuring.

Citrulline, de anaërobe creatine
Creatine werkt door de anaërobe energiehuishouding in de spier te ondersteunen door toediening van fosfaat. Alleen is deze anaërobe energiehuishouding beperkt. Beperkt in de zin dat deze huishouding een beperkte hoeveelheid energie kan genereren en regenereren. Dat is waar citrulline malaat haar werk doet. Studies hebben uitgewezen dat citrulline malaat de aeröbe ATP productie verhoogt met wel 34%. Dit resulteert in een significante reductie in vermoeidheid. Dit komt omdat citrulline malaat de hoeveelheid aanwezige melkzuur (lactaat) deels afvoert en anderzijds hergebruikt gedurende de afbraak van glycogeen als brandstof voor spierenergie.

Synergisme met creatine
Als de beschikbare hoeveelheid creatine fosfaat (CP) is uitgeput en de hoeveelheid creatine in de spieren nog moet worden aangesproken, kan citrulline malaat de aanmaak van creatine fosfaat met 20% verhogen. Dit betekent een sneller herstel tussen trainingen of wedstrijden.

Ammonium
Ammonium is een giftig bijproduct, dat ontstaat door spierarbeid. Ammonium ontstaat bij verbranding van aminozuren en met name BCAA's worden dan aangesproken tijdens zware arbeid. Ammonium wordt afgevoerd door de lever via de ureumcyclus. Ammonium is zeer giftig voor zowel het lichaam als de spieren. Ammonium-opbouw in de spieren zet direct vermoeidheid in. Dat ammonium niet snel wordt afgevoerd, ligt spierverlies (katabolisme) op de loer.

Citrulline stimuleert de ureumcyclus, waardoor het lichaam van de sporter ammonium in snel tempo onschadelijk maakt en afvoert via de urine en het zweet.

Citrulline versus arginine
Recente studies bevestigen dat citrulline een groter effect heeft op de beschikbare NO (stikstof oxide) in het bloed dan arginine. Het is daarom nuttiger citrulline te gebruiken dan L-arginine of AAKG supplementen. Er zijn al legio NO supplementen voor duur- en krachtsporters op de markt, die veelal arginine bevatten. Hoewel arginine een directe precursor is voor NO, werken arginine-supplementen maar matig, omdat arginine voor 40% direct wordt afgevangen door de lever. Hogere doseringen verhogen alleen maar de activiteit in de lever om dit aminozuur af te breken en om te zetten naar ornithine en urine via de nieren. Hoge doseringen arginine hebben ook schadelijke neveneffecten: de weerstand wordt lager en het legt een zware belasting op het maagdarmkanaal. Citrulline biedt uitkomst. Citrulline werkt als een argininedepot, omdat het geleidelijk in arginine en dus NO wordt omgezet

wat NO doet met spiercellen
Studies met NO laten zien dat spieren dit vrije (goedaardige) radicaal nodig hebben om spiermassa aan te zetten. Dit gebeurt door activering van de stamcellen, die zich dan ontwikkelen tot spiercellen. Meer spierontwikkeling maakt spieren sterker en minder kwetsbaar voor kwetsuren. De verhoogde activering van stamcellen komt doordat NO ze gevoeliger maakt voor de spieropbouwende boodschap, die testosteron aan de spiercellen over te brengen heeft.