Vitals Liposomal vitamin C  250ml
1000 mg vitamin C as a liquid
easily absorbed
easy to swallow
without synthetic ingredients (flavours)
contains a small amount of alcohol to stabilize the product
More information on Liposomal Vitamin C
Liposomal Vitamin C from Vitals contains 1000 mg of liposomal vitamin C per 5 ml of liquid, in three different forms (sodium ascorbate, potassium ascorbate and ascorbic acid). Liposomes are fat globules with a phospholipid bilayer, within which the active substance is located. Cell membranes also consist of a phospholipid bilayer, which allows the active substances from the liposomes to be optimally absorbed into the cell.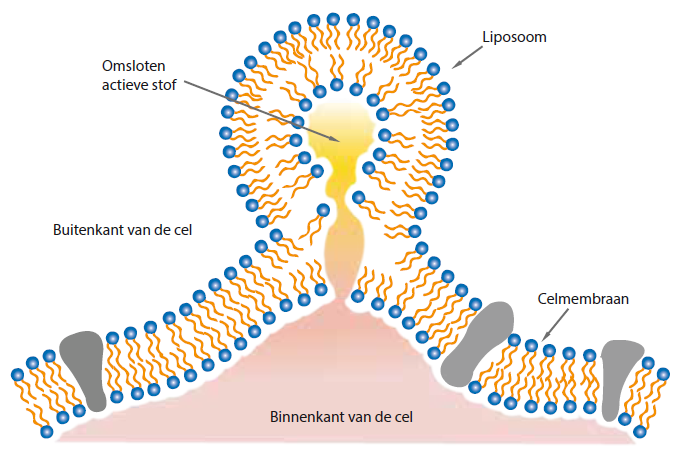 Figure 1: Fusion of a liposome with a cell membrane
In the body, the blood level of vitamin C is determined by the strict regulation of intestinal absorption, cellular transport and excretion.
The absorption of vitamin C in the gut is mainly via active transport, using a sodium-dependent vitamin C transporter (SVCT1). This is done efficiently until a certain concentration is reached and after that the uptake does not increase further because all transporters are saturated.
The form in which vitamin C is offered to the body can make a difference in the absorption. Vitamin C in liposomal form is not dependent on the sodium-dependent vitamin C transporter and therefore has a higher bioavailability..
Effect of vitamin C
Vitamin C is mainly known for its positive influence on immunity. Which is correct: vitamin C helps the immune system, especially during heavy physical exertion or in cold environments. But this vitamin is involved in many processes.

Vitamin C functions in the body as a water-soluble antioxidant and plays an important role as a free-radical scavenger. It is part of a complex system of the body's own antioxidants, dietary antioxidants and antioxidant enzymes with interdependencies and interactions.
In that capacity, it is involved in the protection of DNA, proteins and fats against oxidative damage and thus contributes to the maintenance of healthy cells and tissues.
In addition, vitamin C is needed as a coenzyme for three different enzymes that are involved in the production of collagen (the most common building material in the human body). Normal collagen formation is important for the bones, cartilage, gums, skin, tendons and blood vessels, among other things.
Vitamin C is needed as a cofactor for dopamine beta-monooxygenase (DBM), the enzyme that converts dopamine into norepinephrine and adrenaline. Both act as neurotransmitters and hormones in the body and thus vitamin C positively influences the functioning of the nervous system and contributes to normal psychological functioning.
Vitamin C is indispensable for two enzymes involved in the production of carnitine, which is necessary for the transport of long-chain fatty acids to the mitochondria for energy production. In this way, vitamin C supports the energy level. It can also help with fatigue.
Many people also do not obtain enough iron through their diet, especially women of childbearing age, pregnant women and (young) children. Vitamin C ensures that iron from the diet is better absorbed. This concerns non-heme iron, which is found in plant and animal foods.
Vitamin C does not affect the absorption of heme iron, which is only found in animal products. About 90% of the iron in food is non-heme iron. Only 10% consists of heme iron. As an electron donor, vitamin C can convert oxidized vitamin E back into the active, reduced form, thus maintaining the function of vitamin E.

Humans cannot synthesize vitamin C themselves and are completely dependent on food for the vitamin C supply.
Permitted health claims:
supports the immune system
promotes immunity during and after physical exertion (such as sports) and in a cold environment with a daily intake of at least 200 mg in addition to the recommended daily intake of 80 mg
contributes to normal energy metabolism
helps to reduce fatigue
has a positive influence on the functioning of the nervous system
contributes to a normal psychological function
contributes to the protection of cells against oxidative damage
contributes to the formation of collagen
supports a good condition of blood vessels, bones, cartilage, skin, gums and teeth
contributes to the regeneration of the reduced form of vitamin E
promotes the absorption of iron from food and increases iron levels in the blood
audience

Some supplements are suitable for both men and women of all ages as well as children. But other supplements are specifically targeted to the aging woman or man. Another supplement is especially suitable for athletes, regardless of gender. 

:
quantity discount:
any 2+ = -2.5%!

any 3+ = -5%!

any 4+ = -7.5%!

any 5+ = -10%!
shipping costs:
€0 (NL) - €2,50+ (EU) - €10+ (world)
information:
quantity discount is valid for any combination of products

free shipping >€30 (NL) or €5 discount >€30 (EU)

keep out of reach of young children

a dietary supplement is not a subsitute for a healthy diet ; do not exceed recommended dose

if you have a medical condition, are pregnant, lactating or trying to conceive, are under age of 18, or are taking medications, consult your health care practitioner before using this product.

books, probiotics and products bought in the SALE can NOT be returned
recommended use 
Add 5 ml to (approx. 200 ml) water or fruit juice (using the measuring cup). Stick to the recommended dosage. Shake well before use.

After opening, preferably keep in the refrigerator and use within 2 months. The colour and taste of the product may vary between different batches. This does not affect the quality.
contains per daily serving (5ml)
vitamin C (sodium ascorbate, potassium ascorbate, ascorbic acid)  1000mg (1250% RDI)

RDI = Recommended Daily Intake
ingredients
filler (purified water), active ingredient (vitamin C), emulsifier (sunflower lecithin), humectant (glycerol, <3.4% vol. alcohol [ethanol]), preservative (potassium sorbate), antioxidant (d-alpha tocopherol)
storage
After opening, preferably keep in the refrigerator and use within 2 months. The coluor and taste of the product may vary between different batches. This does not affect the quality.
keep out of reach of young children
contra-indication and warnings
Kidney patients should not take more than 200 mg of vitamin C per day in view of, among other things, the risk of hyperoxalemia (excessive concentration of oxalic acid in the blood).
allergy information
contains no familiar allergens (wheat, gluten, soy, lupin, nuts/tree nuts, celery, mustard, sesame seeds, dairy, egg, fish/shellfish or mollusks)

vegetarians/vegans
suitable for vegetarians and vegans